Seminar & Networking Reception | Launch of the 2023 International Capital Markets Glossary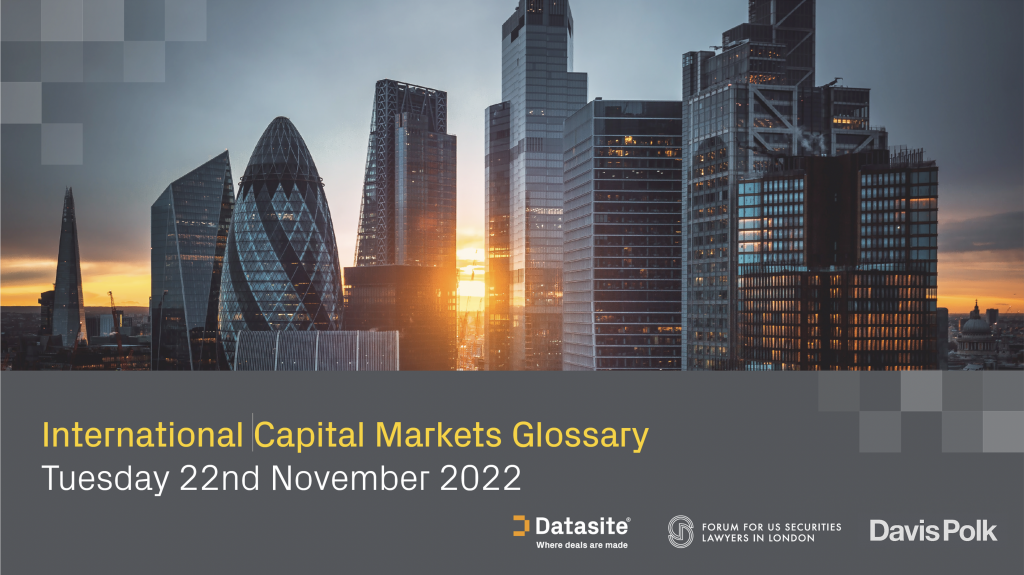 We are excited to invite you to our Thanksgiving-themed drinks and canapés reception to celebrate the launch of our updated International Capital Markets Glossary 2023, sponsored by M&A technology partner, Datasite.
The launch event will be held on Tuesday, 22 November from 6:00 PM – 8:30 PM and hosted by our friends at Davis Polk in their offices in the City (5 Aldermanbury Square, London EC2V 7HR).
The evening will also include a short fireside chat with Deborah Smith, Executive Director and Senior Counsel, Digital Assets Legal, Goldman Sachs International. She will be interviewed by Miriam Patterson, Senior Editor, Thomson Reuters Practical Law, and Connie Milonakis,Partner, Davis Polk & Wardwell, who will discuss Deborah's career path and her transition from investment banking legal to digital assets legal at Goldman Sachs, as well as developments in digital assets across capital markets and beyond.
The International Capital Markets Glossary, prepared by the Forum for US Securities Lawyers in London, is a free dictionary of terms frequently used in capital markets deals and an essential reference tool for every lawyer, client, and market participant, particularly those at more junior levels. This updated Glossary for 2023 is the product of many years of hard work, with contributions from various lawyers and market participants.
We hope you can join us to celebrate the publication of the Glossary and network with lawyers and market participants. Spaces are limited – please register above to reserve your space!
Please note: Each attendee will also receive a limited-edition hard copy of the Glossary.
Running order:
6:00 PM – 6:40 PM: Arrival and networking
6:40 PM – 7:00 PM: Fireside chat
7:00 PM– 8:15 PM: Networking reception